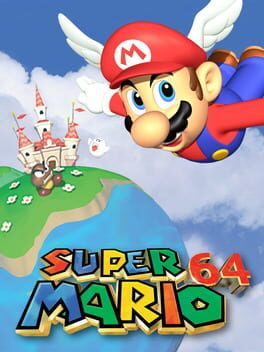 Add Trivia
Sorting options
---
The audio used for Bob-ombs, Monty Moles and Goombas in various games starting with Super Mario 64 is actually pieces of Mario's voice saying "Here We Go" after being pitch-shifted.
Also Appears On:
Mario
(Franchise)
Although the Headless Snowman is a minor character in his few appearances, he received some publicity in the form of a
Nintendo Power
joke published around the time of the main circulation of the "L is Real 2401" Super Mario 64 rumors.
In Volume 107 of Nintendo Power, in the April Fool's-themed "April News Briefs" segment, a "Luigi 64" article is present, where Nintendo states that Luigi fans had been campaigning to have the character in his very own game, and the company's response was to create a hoax upcoming game known as "Headless Snowman 64". This game was apparently intended to satisfy fans of the "second bananas" by featuring a cast of both well-known and obscure Nintendo characters, with the obscure characters including the
Wave Race 64
announcer, "random audience members from
Super Punch-Out!!
", "the frogs in the meadow" from
Diddy Kong Racing
, and the Headless Snowman himself. Additionally, the game would supposedly contain some non-Nintendo characters such as "that bald guy from
Blast Corps
," and "the bikini woman in
Cruis'n USA
." Humorously, this never-made game was not going to feature Luigi, with a developer comment at the end of the article confusing him for "one of the civilian women in
GoldenEye 007
".

In a 1996 interview with Shigeru Miyamoto published in Super Mario 64's first Japanese strategy guides, he revealed that Mario's running animation, speed and movements in that game were influenced by Arale, the main protagonist of the 1980 Akira Toriyama manga/anime "Dr. Slump":
"The area around his hips is a big "joint" that controls which way his body moves. We created all his movements from that point of origin: when he accelerates and inclines forward, when he turns and leans left or right, etc. So Mario sort of runs like Arale-chan, with the correct sense of weight in the body."
However, Dr. Slump's influence throughout the Mario series could trace back even further. In particular, his running speed and animation and the Racoon and Tanooki Suits from Super Mario Bros. 3, the Wing Cap from Super Mario 64, the Cat Suit from Super Mario 3D World, and even traits of Mario's happy cartoonish personality, his short stature and gloves, and blue-red-overalls color scheme bear enough similarities that they all could have been taken from Arale's appearances and other elements throughout Dr. Slump. Despite this, outside of Miyamoto's comment, these connections are not known to have been elaborated on by any other employee from Nintendo.
According to Shigeru Miyamoto, the design of the Deku Baba enemies in The Legend of Zelda series were a cross between a dog and the giant snapping Clams from Super Mario 64.

Koopa Troopa's voice is an incredibly short snippet of "HUMAN, YELL - YELL: FEMALE", a sound effect of a woman gleefully screaming from the Best Service Voice Spectral Volume 1 sound pack, modified into different pitches and speeds. In some games, a different snippet from the sound effect is used to represent Koopa Troopa screaming or being frustrated.
Also Appears On:
Mario
(Franchise)

Among the files included in the Gigaleak, a massive 2020 content leak of internal data from Nintendo, are assets associated with
Super Mario 64
depicting a fully-coded enemy named Motos, which is absent from the final game. The enemy is programed to chase Mario, pick him up, and throw him similarly to Big Bob-omb and Chuckya. Like those characters, Motos can be picked up and thrown, but unlike them, it can only be defeated by being thrown into lava, similarly to the Bully and Big Bully. This weakness implies that Motos was originally intended to appear as an enemy in Lethal Lava Land and Bowser in the Fire Sea, which is corroborated by the fact that various other assets associated with the levels feature "motos" in their filenames.
Further analysis of the source code indicates that Motos were intended to be connected to Bullies, which are labeled "Otos" in the source code and use sound effects that are also associated with Motos. Additionally, the code contains a filename for an "icemotos" miniboss in Snowman's Land, and the "Bully the Bullies" star in Lethal Lava Land is internally named "bigmotos," implying that at least two variants of Motos were conceived as minibosses before being replaced with Big Bully and Chill Bully in the final game.
Additional data in the Gigaleak indicates that at some point in development, Motos was reconfigured into a boss version of the Chuckya enemy, labeled "Katsugikun" in the source code, before being scrapped altogether. Unlike Motos, no assets for Katsugikun exist other than a filename and behavior code.

By standing against the wall between the left and middle paintings for Cool, Cool Mountain and using the first-person view, you can clip the camera through the wall to find what appears to be a
large red "F"
floating in the void. This is actually part of the entrance to Bowser in the Dark World, a course on the same floor, seen from below.

The game's smoke texture, labelled "gas_b5" in the source code, was intended to be much more detailed in appearance, but ended up corrupted in the final game due to being encoded in the RGBA16 format rather than the intended IA16. While the glitched texture would theoretically look like a swarm of multicolored pixels as a result of this error, it instead appears as a clump of black pixels due to the game displaying it without any colors, resulting in it not looking out of place. Modifying the game's code to convert the texture to the IA16 format results in it properly displaying.

In the European version, the demo clip depicting Mario collecting a ring of coins in Whomp's Fortress sees him grab one less coin than in all other versions of the game, resulting in two coins being left on-screen instead of just one. Oddly, this is the only change made to the game's demo videos between regions.

The skybox of Wet-Dry World, originally believed to be a stock photograph of the hillside town of Casares, Spain,
was later found
to be a composite of altered photographs of the town of Shibam, Yemen. The sole exception is the red building near the top of the picture, which was identified as the Great Mosque of Muhammad Ali Pasha in the city of Cairo, Egypt. The location fits the idea of Wet-Dry World, because Yemen is a desert country that, like other Middle Eastern countries, experiences sporadic large-scale flash floods.
The game's producer and director Shigeru Miyamoto was asked if he had any references, or anything else he relied on when making all of Mario's various animations. He responded:

"We tried out a lot of different things using motion capture, but ultimately we ended up doing it all by hand. We created a "skeleton" for Mario that was the basis of his movement."
In the game's files are unused animations for Mario that include:

• Mario putting on his hat faster.
• An alternate animation for when Mario rides a Koopa Troopa shell.
• Mario changing from a free fall to a forward flip.
• Either Mario crying or reaching for something in his pockets.
• Mario's unused running animation
• Mario motionless while sliding
• A forward sideflip.
In the Japanese exclusive Shindou Pak Taiou edition of the game, the famous "backwards long jump" glitch was fixed, as Mario's speed is capped when going backwards.

It is the only version of Super Mario 64, barring the DS remake, with this fix.
The concept of a floating Mario head on the title screen was taken from a prototype of a game called Mario Paint 3D. It is unknown what this game was going to be but it was speculated to have eventually become Mario Artist Paint Studio for the 64DD.
The level select sound that occurs after the player jumps into a painting is actually the first few notes of the
Super Mario Bros.
overworld theme but with vocals.
During a stream of Super Mario 64, Twitch user DOTA_Teabag accidentally warped upwards in Tick-Tock Clock while trying to land on a platform on the first floor. While similar to a glitch in Bowser in the Fire Sea that allows Mario to warp into the caged portion of the level from the platform directly below, DOTA_Teabag's version did not rely on any hang-able ceilings being above Mario during its performance. This prompted Super Mario 64 analyst and Youtube personality Pannenkoek2012 to offer a $1000 reward to anyone who could submit a recording of themselves replicating the glitch in Mupen64 (a Nintendo 64 emulator) under the same criteria as when DOTA_Teabag discovered the glitch, with the purpose of reverse-engineering it.
At the time of this writing the bounty has not been collected.

In early version of the game Mario's health bar was different. It featured numbers, as well three colors, green, yellow and red. This was later changed in the finished product where Mario's health is a full pie graph, and the colors that are in the final version of the health bar are Blue, Green, Yellow, and Red.
A rideable horse was discussed during early development of the game but was never included. This idea eventually made it into
The Legend of Zelda: Ocarina of Time
as Link's horse, Epona.