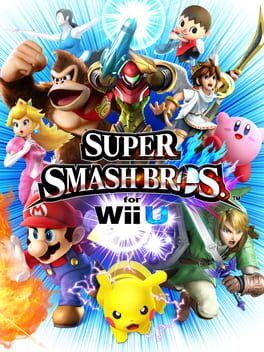 Super Smash Bros. for Wii U
November 21, 2014
Add Trivia
Sorting options
---
A potential stage based on
Super Mario Land
was considered for the Nintendo 3DS version to represent the Game Boy. However, a stage based on
Kirby's Dream Land
was used instead for unknown reasons (the stage was renamed to Dream Land GB in
Super Smash Bros. Ultimate
to avoid confusion with another stage already named Dream Land).
A reversal of this kind also happened in the Wii U version, where a stage based on
Kirby's Epic Yarn
was considered, but was replaced by a stage based on the then-upcoming Wii U game
Yoshi's Woolly World
.

While battle damage is used for Little Mac, data suggests that other characters were planned to have similar effects. This can be seen in unused textures for R.O.B. in the game's data which seem to show battle damage. This is a remnant to
Super Smash Bros. Brawl
in which characters were also planned to have battle damage, but were left out.
The Pirate Ship stage from Super Smash Bros. Brawl was only included in the Wii U because of technical limitations of the 3DS.
Xander Mobus, the game's announcer, has stated that he had difficulty pronouncing Jigglypuff's Japanese name, Purin.
In the sound test section, there are unused audio clips for both versions of Corrin screaming when taking a high-knockback hit.
In the Sound Test is one of Rosalina's voice clips from
Mario Kart 7
. This could've been used for her generic attacks, but it is unused.
In the Sound Test is Wario's groggy moan which was used in
Super Smash Bros. Brawl
when his Final Smash ends. Despite this, the audio is otherwise unused in this entry.
In the game's files is a very brief beep sound. This same audio clip is also in the files in
Kid Icarus: Uprising
.
In the 3DS version's files is the Forest Stage theme from "Kirby Air Ride." This song would later be used for the Dream Land (64) stage on Wii U.
In an interview with Nintendo Dream, Masahiro Sakurai stated that the reason why Ness and Lucas's final smashes, PK Starstorm, function differently from their Brawl counterparts was due to limitations in the 3DS hardware.
Yoshi does not make any noise upon using his "Yoshi Bomb" down special. However, the voice clip can be found as Clip 22 in his section at the Sound Test.
In the game's files are unused animations containing Diddy Kong laughing.
Inside the game's files are unused gliding animations for Meta Knight, Pit, and Dark Pit. This may suggest that gliding was supposed to return from Brawl. However, it's likely that it was cut for balance reasons.
This is the only game, as of this writing, where Marth does not say anything upon using the Counter move. The sounds for Marth's Counter voice clips can be heard in the game's Sound Test.
Inside the game's files are the unused preview images from the 2007-2016 era characters (Rosalina, Wii Fit Trainer, Shulk, etc.) suggesting that the All-Star mode would've had the same order of the characters as the 3DS version.

For some strange reason, in the Spanish version of the Wii U game, the Temple stage is called "La Cúspide." "La Cúspide" means "Summit," and it's unknown whether the stage from Brawl would return, or just simply a translation mistake.
Some releases fixed this mistake, however, and the map is called "Templo" in those instances. (the correct Spanish name)

According to Masahiro Sakurai, in the November 2014 issue of GameInformer, the reason why both versions were released at different times was done to "keep the debugging schedules separate from each other:"
"The biggest reason was so we could keep the debug schedule separate from each other. Debugging a game this size is a major project involving hundreds of people, and since the two platforms offer pretty different content, we wanted to avoid conflicts during the debug stages. If we were hell-bent on a simultaneous day-and-date release, we would have wrapped up one title, put it on the back burner, and launched both games in 2015. But I doubt most people prefer that."

According to Masahiro Sakurai, in the November 2014 issue of GameInformer, the reason why Super Smash Bros. was released on two different consoles was because he was a "freelance game designer," and that having a unique version of the game makes it fun.
"The first reason is that I think both portables and home consoles have their own traits that make them fun. I've gone into that in previous interviews, so I'll omit the details here.
One big reason for this approach is because I'm a freelance game designer ... I'm always going to be the center of any Smash Bros. project, but since I don't have my own personal studio, the staff changes in and out with each project. Changing development studios like this also means that you can't build out from the know-how and in-house assets you've accumulated over time.
As a development environment, it's different from a publisher that can work on fighting games, shooters, and open-world titles all at once. For us, even if things look the same, it's all completely different, completely built from scratch. If we started with a console project then moved on to the portable platform, once one team finished up their work, we'd have to wait and hand everything over to another team."
Underneath Link's hat, you can see fully modeled hair that cannot be seen under normal circumstances.
The emulated NES demos featured in the "Masterpiece" collection seem to run NES games at a higher quality than the actual Virtual Console versions they are promoting. This is most evident in how smooth and clear these demos look against the comparatively blurry VC ports.
This is likely due to Nintendo's improved emulation abilities rather than them purposefully trying to mislead fans, as the NES Virtual console was released very early in the
Wii U
's lifespan and likely used a system similar to that of the
Wii
.