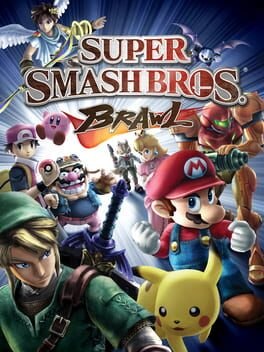 Add Trivia
Sorting options
---
A voice line of Snake saying
"There!"
can be found in the game's files.
While it remains unused in this game, it would later be used for when Snake plants a C4 in
Super Smash Bros. Ultimate
.
Inside the game's files are unused animations of Diddy Kong laughing. The file names suggest that it would've been used when using the Banana Peel down special.

Like its predecessor,
Super Smash Bros. Melee
, The game was originally supposed to include alternate trophies along side their regular trophies for the playable characters. No icons nor preview images exist for any of the trophies.
In this version of the Yoshi's Island stage, if a player's shield breaks while they are standing on one of the sloped parts at the end of the main platform, when they land they will roll off the stage, canceling the shield break stun. This allows the to immediately regain consciousness and move much sooner than intended.
Wolf, Jigglypuff, and Toon Link were not involved with the plot of the Subspace Emissary due to them being close to not appearing in the final roster.
Wolf barely made it into Super Smash Bros. Brawl due to time constraints. He was added to the game because of popular demand, and because he was an easy character to create.
The stadium in Home-Run Contest is actually a loop. After 40,000 ft, it will go back to zero.
In the Subspace Emissionary there were plans to include a scene where Meta Knight still had control of the Halberd, before being attacked and losing the ship to Tabuu. This scene was removed from the final game.
Super Smash Bros Brawl was Samus's first appearence that featured voice acting, as Zero Suit Samus has several spoken taunts. Before this, only three games had had her say any lines:
Super Metroid
,
Metroid Fusion
, and
Metroid: Zero Mission
; these lines were only in text format and were unspoken.
Smash Bros. Director, Masahiro Sakurai, has stated that Shigeru Miyamoto had approached him about adding Pac-Man into Smash Bros Brawl. Sakurai imagined Miyamoto inferring to adding Pac-Man in his original 2D form to the game, and that the idea would be "too farfetched".
The Japanese release includes a 5-minute demo of Mother 2 (known as
EarthBound
in West) and a 3-minute demo of "Fire Emblem: Monsho no Nazo" within the Masterpieces menu.

There's is an unused enemy called Mizzo which is never found in the Subspace emissary except during the enemy display room inside the Halberd. It appears to be an orb with arms and legs sticking out, surrounded by wind. However, a trophy exists for this enemy which will spawn randomly wherever trophies can spawn. The trophy description references this enemy's absence.
Masahiro Sakurai stated that the Villager from
Animal Crossing
was removed from Brawl during the planning stages because "he wasn't suited for battle".
An unused graphic of the Mario icon from Super Smash Bros. Melee can be found in the game's files. The Mario icon could mean that all the icons were going to be reused from Melee, but it also could have simply been a placeholder graphic.
Whilst the Star Fox Characters were voiced by their English Voice Actors from Star Fox: Assault in Super Smash Bros. Brawl, half the cast were actually unavailable to return. Some characters were instead given new voice actors:

•Falco and Peppy were voiced by Dex Manley, who voiced ROB 64 in Star Fox Assault.
•Wolf was voiced by Jay Ward.
•Leon was voiced by Jim Walker, who also voiced Fox.
•Panther was voiced by Eric Newsome, who also voices Meta Knight in the game.