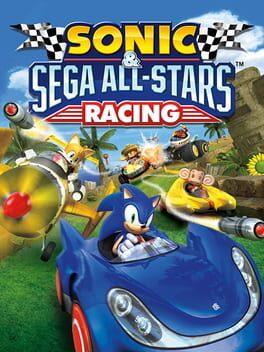 Sonic & Sega All-Stars Racing
February 23, 2010
Add Trivia
Sorting options
---

The
House of the Dead
series, despite being featured quite prominently, has rarely been namedropped in SEGA crossover games.
In
Sonic & Sega All-Stars Racing
, Zobio and Zobiko's character bio shortens their debut as "
HOTD EX
" (despite games with longer titles such as
Billy Hatcher & the Giant Egg
and
Alex Kidd in Miracle World
not being shortened).
In
Sonic & Sega All-Stars Racing
,
Sonic & All-Stars Racing Transformed
,
Sega Superstars Tennis
, and
Sega Superstars
, all instances where a
House of the Dead
logo would be placed are instead swapped for a logo reading
Curien Mansion
in the same style as the series' logo.
Sega Heroes
would be the game to finally break the trend, referring to the games by their title and with their original logo.
This may be due to the series being banned in Germany.
During early development the developers experimented with having each character have a different way of racing, with Sonic running, Dr. Eggman in the Eggpod, and Gilius Thunderhead from
Golden Axe
riding on top of a Chicken Leg. This idea was abandoned when they found that the gameplay just wasn't enjoyable, mostly due to the racers being different sizes, as well as problems getting characters on foot to drift the same as characters in cars.
Jacky and Akira are the only characters in Sonic & Sega All-Stars Racing to have reused artwork. In this case, their artwork was taken from Virtua Fighter 5

On the early releases of the game, Sonia appears on a playing card representing the Queen of Diamonds which can be spotted on the ground of the race track, Roulette Road. Sonia's head was taken from a piece of fan art from Deviantart drawn by a user formerly known as Lightning_duchess (now RianaLD). Steve Lycett, Game director commented on the cameo by saying; "We take these things seriously at Sumo and will be contacting the original artist directly to offer our sincere apologies to her, this was entirely unintentional. Not much else I can really add!" This image was only supposed to be used as a place holder.
This is the Last Sonic game to use the 4Kids voice actors, who, with the exception of Mike Pollock, were replaced with the Studiopolis and Funimation voice actors.
Mario was considered for a role as a playable character, however, the developers wanted to avoid cross contamination with the Mario & Sonic series.
Sumo Digital had tried to get ToeJam & Earl in the game as well. However they were unsuccessful with obtaining the rights for both All-Stars Racing and its sequel All-Stars Racing Transformed.