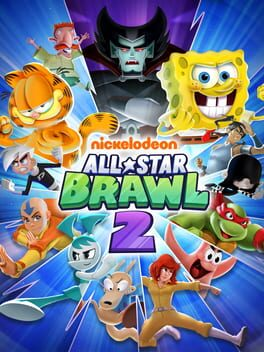 Nickelodeon All-Star Brawl 2
November 7, 2023
Add Trivia
Sorting options
---
This trivia has been marked as "Not Safe for Work".
It may not be appropriate for all visitors and
definitely isn't appropriate for work or school environments
.
Click here to unhide it.
Nickelodeon All-Star Brawl 2
has been noted as having almost zero similarities to the game it is a sequel to from a gameplay perspective. Gameplay and moveset designer and community manager Thaddeus Crews would address this disparity in a short Twitter thread shortly after the sequel's launch by reassuring fans who prefer the first
NASB
that the sequel was not intended as a replacement for the first game:
"You know the best part about
NASB1
being/feeling so different from
NASB2
? They're not mutually exclusive!
The first game isn't suddenly rendered irrelevant by the sequel coming out; it's entirely possible to run/enter events for the core gameplay that remains entirely its own
I've seen plenty of people that prefer the first game's gameplay, and more power to them! I'm happy that they've found something they can latch onto and enjoy; surrounding circumstances be damned"
The Angry Beavers' jab attack - where the selected beaver slaps their opponent - is called "Slap City", a reference to
Slap City
, another platform fighter developed by Ludosity, the studio behind the first
All-Star Brawl
which also provided support on
All-Star Brawl 2
.

In the weeks prior to
Nickelodeon All-Star Brawl 2
's release, a near-complete prototype build of the game leaked online. The Twitter account for the game's main developer, Fair Play Labs, accidentally retweeted a GIF of SpongeBob dancing from an unrevealed sound test mode and promptly deleted it. Community manager Thaddeus Crews expressed that, while he didn't have a particular moral problem with fans playing the leaked build, he advised against competitive players using it for practice due to how outdated it is.

Squidward's forward tilt in
Nickelodeon All-Star Brawl 2
is based on a meme that went viral around the first game's pre-launch, showing a screenshot of Squidward kicking with poorly aligned fighting game hitboxes and the caption "AH HELL NAW SKODWERD GOT THE JANKY ASS HITBOX". Despite this origin, the move's hitbox "isn't very janky".
Despite many of the more unusual character picks in the first
Nickelodeon All-Star Brawl
being noted as characters the development team had to push Nickelodeon into allowing them to use, Grandma Gertie in
Nickelodeon All-Star Brawl 2
was actually pitched by Nickelodeon corporate, something community manager Thaddeus Crews has stated to be akin to "selling blood to a vampire".

In launch versions of
Nickelodeon All-Star Brawl
, Garfield's stage Sweet Dreams was discovered before his official announcement in an unfinished form which takes place at day time, unlike the final version which takes place at night. Additionally, a thumbnail was discovered for an extremely early version of the stage that takes place at sunset and has an opaque lasagna tray. When Sweet Dreams returned to
Nickelodeon All-Star Brawl 2
, under the name Food Dream, the daytime setting for the stage would be restored.
Nickelodeon All-Star Brawl 2
was the first Nickelodeon product where Korra from
The Legend of Korra
isn't voiced as an adult by Janet Varney, instead being voiced by Jacqueline Grace Lopez, while
Nickelodeon Kart Racers 3: Slime Speedway
was the last time Varney portrayed the character. The reason for this is that in 2022, a year before
All-Star Brawl 2
was released and the same year as
Kart Racers 3
, Varney announced that she was stepping down from the role because she wanted Korra to be voiced by a person of color, much as Korra herself is, following the announcement of a new
Avatar: The Last Airbender
movie starring Korra to be released in 2025.

Patrick's Super move was originally going to feature a unique squashed model for each character - these were ultimately scrapped for unknown reasons, with Patrick simply slamming down his rock on the opponent without any transformations or unique animations attached.

Prior to
Nickelodeon All-Star Brawl 2
's announcement, a convincing image "leaked" showing El Tigre in the game, which would be shared by a variety of sources including Jorge R. Gutierrez, the creator of
El Tigre: The Adventures of Manny Rivera
. It would later be confirmed by a moderator on the official
NASB
Discord (who has no involvement in the game's development) that the image was actually an art test from another Discord server and not intended to be spread as a leak. Despite this, El Tigre would still appear as playable character in
Nickelodeon All-Star Brawl 2
, a rather lucky coincidence given the cartoon's obscurity.
Squidward was not intended to have access to double-jump cancelling (a technique from
Super Smash Bros.
and
Super Smash Bros. Melee
where floaty characters such as Peach and Ness can attack at the start of a jump to propel themselves downwards, allowing for moves to end quicker) during the design phase. However, the tech was added by accident after a programmer assumed he was supposed to have it. The development team liked it, and chose to keep the ability as a result.
In
Nickelodeon All-Star Brawl 2
, Azula is voiced by Suzie Young instead of her original voice actress, Grey DeLisle - despite this, DeLisle returned to voice Frida Suárez in the same game.

Reptar's ice-skating attack resembles Bowser's dash animation from
Super Smash Bros. Melee
and
Super Smash Bros. Brawl
.
During the prerelease of
Nickelodeon All-Star Brawl 2
, a set of placeholder pages were found on the game's website relating to different characters. Most notable of these pages was one for Helga, a character who was in the first
Nickelodeon All-Star Brawl
and hadn't been seen in
All-Star Brawl 2
marketing materials or leaks at that point - this led a lot of fans to believe that Helga would be returning. Ultimately, she would only be a background cameo on the Aquarium stage.
While most other characters in
Nickelodeon All-Star Brawl 2
recieved revamped movesets, Jenny's moveset is nigh identical to her moveset from the first
NASB
aside from inputs that didn't exist in the
NASB 1
moveset template. This is due to moveset and gameplay designer Thaddeus Crews considering Jenny's moveset to be one of his favorite kits from the first game.

In the reveal trailer for
Nickelodeon All-Star Brawl 2
, a set of gameplay footage from the first installment is shown. This is notable for two reasons, one being that the footage shows off multiple characters not featured in the second game, and that one scene shows a beta version of the Wild Waterfall stage with a smaller waterfall and different colors for the Thornberrys' ComVee. This would lead to a theory that the Wild Waterfall footage was taken from
NASB 2
and accidentally inserted into the
NASB 1
section of the trailer, which if true would confirm that Lincoln Loud and Leonardo were returning.
This theory was quite easily debunked by Lincoln and Leonardo using their models from the first
All-Star Brawl
while everyone else got revised models, and a KO explosion effect featured in the snippet being different from one shown later in the trailer. Nigel Thornberry's character showcase would later show off a new
Wild Thornberrys
stage in place of Wild Waterfall, which was shortly followed by a leak showing Lincoln as an NPC cameo on the Loud Castle stage.

It has been implied that Garfield's neutral special in
Nickelodeon All-Star Brawl 2
(where he transforms into the original, fatter 1970s version of the character) was originally going to feature him smoking a pipe, in reference to an internet meme based on a 1978 Garfield comic, where the last panel of a different Garfield comic is replaced with a panel of Garfield smoking a pipe with the same design. It is unknown if this was removed by the developers' choice, at the request of Nickelodeon, or at the request of the ratings board, but either way was likely to make the game more appropriate for its age demographic.
Many Nickelodeon fans have noticed a significant omission of characters from the series
The Fairly OddParents
in Nickelodeon crossovers starting in 2008's
SpongeBob SquarePants featuring Nicktoons: Globs of Doom
, which was the final installment in the
Nicktoons Unite!
series where Timmy had previously been part of the main ensemble cast. The reasoning for this is believed to be due to Nelvana, a Canadian distributor of children's content, who holds the international licensing rights and copyright for the first 5 seasons of the show outside of the US, and famously used this to syndicate the cartoon on the rivaling Disney Channel.
Series protagonist Timmy Turner did later appear in the 2022 Apple Arcade game
Nickelodeon Extreme Tennis
. In response to a Tweet speculating that this could lead to
Fairly OddParents
content appearing in
Nickelodeon All-Star Brawl
, the community manager for the latter game Thaddeus Crews posted
a "heads-in-the-clouds" emoji
. An
All-Star Brawl 2
playtester has alleged that the legal issues with
Fairly OddParents
are so complicated and strung-out that a former Nickelodeon or Nelvana employee was gifted the copyright to Timmy Turner's pink hat design as a farewell gift.