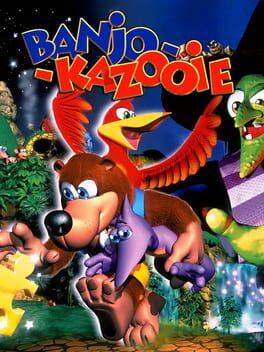 Add Trivia
Sorting options
---
Inside the game's files is an unused song called "Mumbo's Rain Dance.".

There's an unused underwater variation of the Freezeezy Peak theme which cannot be heard in-game as the water in that level is too cold (and too shallow) to swim in. Even if the player travels through the icy water submerged after having been turned into a walrus by Mumbo, the music still won't change.
Before Rare decided to use Banjo to replace the character Edison (the main character of the canceled
Project Dream
project that would later become
Banjo-Kazooie
), they wanted the main character to be a rabbit.

An early idea for the game was to replace a majority of the dialogue in the game with "Bubblespeak". Thought bubbles would appear above the character's heads featuring an image inside, either still or moving, conveying any advice, warning or info that they're trying to tell. This was to make the dialogue in the game more uni-lingual and funnier.
In an early development version of Mad Monster Mansion, there was a painting in the dining room of the windmill from "Twelve Tales: Conker 64" - The game that would later become
Conker's Bad Fur Day
.
The original sound for collecting an Egg changed in development. It's not know why it was scrapped, but it might have been because the sound became rather annoying when collecting large amounts of eggs.
The music for Gruntilda's Lair strongly resembles an old song called "Teddy Bear's Picnic". The composer, Grant Kirkhope, has acknowledged that he probably was thinking of Teddy Bear's Picnic when he wrote Gruntilda's Lair, but doesn't remember it being a conscious decision.

Inside Banjo's house is a painting of Banjo & Kazooie walking through a forest. This is an image of a world that was originally intended to appear in the game; Fungus Forest. The level wasn't completed in time, so it was put into
Donkey Kong 64
.
In an early E3 video, it shows that Banjo and Kazooie could fly at any time they wanted without the use of a flight pad. This was most likely removed to limit the amount of area the player could cover at one time.
This trivia has been marked as "Not Safe for Work".
It may not be appropriate for all visitors and
definitely isn't appropriate for work or school environments
.
Click here to unhide it.
If you input too many "illegal" cheats in the sandcastle in Treasure Trove Cove, Gruntilda will permanently delete your save file. This won't come into effect until you have saved and quit or turned off the console though.
When you collect a Mumbo Token, a sound effect of Mumbo saying "Ikkum Bokum" plays. This phrase (and most of Mumbo's speech aside from "Oominaka" and a few other sound effects) are all made up of randomly-arranged soundbites. When these soundbites are arranged in the correct order, they say "Come and have a go, if you think you're hard enough."
When Mumbo turns you into a creature he says "Oominaka." Grant Kirkhope, Mumbo's voice actor, revealed that at the time of recording the voices for the game his left testicle was swollen. "Knackers" is British slang for testicles, so he thought it would be funny if Mumbo said "Ooh, my Knackers." Thus, every time that Mumbo uses his magic to turn you into a creature, he's actually complaining that his testicles are in pain.
The music played inside the Ant Hill of Mumbo's Mountain is a slowed down version of what was originally intended to be the world's main theme. The original theme was partially inspired by the Baby Elephant Walk tune from the film "Hatari!".

The theme that was used for the world Treasure Trove Cove was also the second version that the game's composer, Grant Kirkhope, had written due to the change of the game from "Project Dream" to "Banjo-Kazooie".