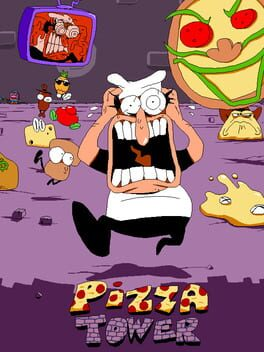 Add Trivia
Sorting options
---

The title card for the "Gnome Forest" level has become the subject of the "
Lario
" meme, which features an edited version of the card with the word "Lario" above the characters' heads as a mashup of "Sneaky Snitch" by Kevin MacLeod and "Superstar" by Young Thug. This meme would go onto be referenced within Pizza Tower itself, with Gnome Forest's secret music being renamed "Everybody Wants To Be A Secret" after the meme became popular.
If the player idles on the main menu for about 40 seconds without inputting anything, Peppino will eventually jumpscare them, causing the game to close itself.

In response to fans of
Antonblast
and
Pizza Tower
attempting to start an arbitrary rivalry between the two games, Anton creator Tony Grayson tweeted "Why not both?" with an illustration of Anton and Peppino kissing.
This trivia has been marked as "Not Safe for Work".
It may not be appropriate for all visitors and
definitely isn't appropriate for work or school environments
.
Click here to unhide it.

During development of
Pizza Tower
, multiple demo builds were released - among these was a build known as the "Peter Griffin Experience", built off of the 2018 "early test build". This demo replaced every single sprite of Peppino with a highly compressed edit of a stock image of Peter Griffin from
Family Guy
made to resemble Peppino, and replaced one of the game's musical tracks with a fan-made
Family Guy
remix.
After this build, the Peter Griffin "arms resting" pose would appear in some builds as a taunt, albeit as an actual sprite and not an edit, and a video would be posted by developer McPig showcasing the taunt, accompanied by the first note of the
Family Guy
theme song, under the name "family", likely referencing a
a meme video that plays the first note and ends
. This taunt was removed for unknown reasons in the final game.
During development of the game, Peppino was stated to be a
war veteran who suffers from PTSD
. Following the release of the game, this was retconned, with game creator McPig stating that Peppino probably merely imagined his participation in conflict.
One of the Pizza Grannies on the hub world claims that the player can type "/pizza" to order a pizza from Peppino's Pizzeria as an "Instant Pizza Gaming Promotion". This is a reference to a
promotion
done for
EverQuest II
, where the player could type "/pizza" into the game chat to open up the Pizza Hut website.

The game was originally planned to feature a "Heat Meter" that kept track of how many enemies the player was able to defeat in a row. More consecutive kills would build up the player's "heat," while getting hit and spending too much time without attacking enemies would lose heat. Higher heat levels would additionally make enemies more aggressive, increase the amount of points lost from taking damage, and grant Peppino new attacks. The development team compared this mechanic to a similar one found in
God Hand
.
The Heat Meter was fully implemented in a demo released to Patreon backers in April of 2021, but was simplified in later builds before ultimately being removed in October of 2022 due to mixed audience responses; several animations associated with it were also reconfigured for other purposes. Despite this, graphics for the Heat Meter and code for the more aggressive enemy behavior are still present in the final game. The Pizza Slug, Shrimp Thug, and Tribe Cheese enemies would also have their high-aggression modes enabled by default.
The Noise, Pepperman, and The Vigilante were all planned to be playable at some point - Vigilante and Noise were both intended to be regular playable characters, while Pepperman was intended as a one-level only character on Refrigerator-Refrigerador-Freezerator, much like Gustavo & Brick. All 3 of them have code and animations left over in the game, of varying compatability. The Noise is said to "likely" be re-added in a future update due to all of his animations being completed.

Pizzahead's third phase was originally going to be, instead of a boss rush, Pizzahead growing desperate and starting to violently attack Peppino directly through kicks and punches rather than cartoon gags. This was scrapped as the development team didn't want Pizzahead to be perceived as an angry character as much as just an evil clown.
Many fans and critics have noted similarities between the aesthetic of
Pizza Tower
and "off-model" 1990s cartoons such as
Ed, Edd, n' Eddy
and
The Ren & Stimpy Show
. Game creator McPig has claimed not to be a fan of those series and to have not been influenced by them, although he did still take influence from the more cleanly-drawn
SpongeBob SquarePants
, and an unclear inspiration from 1990s cartoons would still be cited on the game's Steam store page description.
This trivia has been marked as "Not Safe for Work".
It may not be appropriate for all visitors and
definitely isn't appropriate for work or school environments
.
Click here to unhide it.