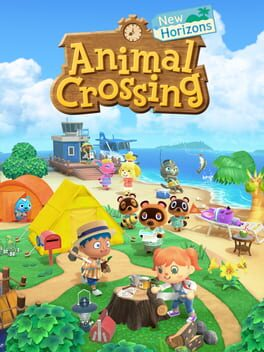 Animal Crossing: New Horizons
March 19, 2020
Add Trivia
Sorting options
---
To coincide with the release of Animal Crossing: New Horizons, PETA released a "Vegan Guide to Animal Crossing".
Also Appears On:
PETA
(Company)

On the back of K.K. Slider's guitar are two stickers labeled "PASS," depicting doodles of Brewster and Dr. Shrunk. Though difficult to see due to their small size and the fact that the back of the guitar is only visible when listening to a requested song from K.K., the stickers reference locations where he performed in prior games: the Roost (where Brewster works) in
Animal Crossing: Wild World
and
Animal Crossing: City Folk
, and Club LOL (where Dr. Shrunk works) in
Animal Crossing: New Leaf
.

While New Horizons stands out from earlier games through the rebranding of male/female gender options as "styles," presumably to make the game more accessible for nonbinary audiences, the game still assigns hidden values to them that correspond to a gender binary. Specifically, picking the feminine style results in the player character bearing a dark stripe across their chest, apparently representing a bra. However, this cannot be seen in normal gameplay, as players of both styles wear a plain white tank top if they aren't wearing a shirt or a dress. At the time of the game's initial release, a glitch was present that allowed one to see the bra texture, but it's currently unknown if this can be replicated in later revisions of the game.

In a post from April 26, 2021 detailing the Version 1.10.0 update (which released two days later), Nintendo showed off a screenshot containing a villager house not seen in any previous revision of the game. While this led to speculation about possible new villagers, Nintendo clarified on their Japanese website the following day that this was done in error, and that this house would not be appearing in the update; the image was promptly replaced with an alternate screenshot.
Coincidentally, 16 villagers would be added in the Version 2.0 update, but none of them use the house seen in the removed screenshot.

Upon catching a squid, the message that pops up will say that it's "off the hook", referencing the duo Pearl and Marina from the
Splatoon
series.

There is an item in the game that was originally called "Switch". This item had it's name changed to "Light Switch" in a version 1.2.0. It's possible the name change came about so that players would not confuse the aforementioned item with the "Nintendo Switch" which is another obtainable item in the game.
The reason for the game's sudden shift from a town to a deserted island was as a result of Animal Crossing's director Aya Kyogoku wanting to bring something completely new to the series. Kyogoku believed that players were "moving to a new location that already existed," and "wanted to giving them a new experience and thought a deserted island would be perfect."