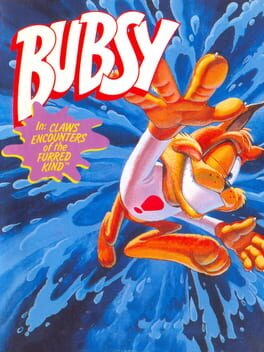 Bubsy in Claws Encounters of the Furred Kind
May 1, 1993
Add Trivia
Sorting options
---
When the Japanese version's passwords are put together in a string, they make up the first 114 digits of pi.
(3.14159265358979323846264338327950288419716939937510582097494459230781640628620899862803482534211706798214808651328)

The PAL and NTSC versions of the game use vowels instead of numbers, and are mostly made of random strings.
There's a hidden credit line in the game's ROM which reads:
(C) 1992 Basement Boys Software
Basement Boys Software were a group famous for making hacking tools on the Commodore 64 in the late 80s, who had some members go on to Chip Level Designs, a company that used to provide sound programming for a number of SNES titles. The same credit appears in
Cool Spot
.
Accolade's marketing department attempted, and failed, to get Bubsy to wear pants.
Also Appears On:
Bubsy
(Collection)
Prior to the creation of Bubsy, Accolade tried to encourage Michael Berlyn to use Cheetos mascot Chester Cheetah instead of creating a new character for the game, but Berlyn convinced them by pointing out how creating a new character would be cheaper than licensing out an established mascot.
When
Bubsy
creator Micheal Berlyn pitched the game idea, it was initially denied, with his producer claiming "Go back to writing stories, that's all you know" (refering to Berlyn's history in text adventure games). When Berlyn asked for an option to prove his platforming know-how, they asked for him to write an analysis of
Sonic the Hedgehog
and why it works as a game. Berlyn would spend 10 hours a day playing
Sonic
in order to write an essay about the game, and
Bubsy
got the greenlight, though he did have to find a different producer.
Before settling on the artificially-sped-up voice that Bubsy would get in the final game, other accents in consideration for Bubsy were a Brooklyn accent and a Yiddish accent.
Bubsy's catchphrase, "what could possibly go wrong?", originated as a self-deprecating catchphrase from the
Claws Encounters of the Furred Kind
development team when the game ran into issues. Another phrase in consideration was "Whatever blows your hair back!", which Bubsy would say in the opening to Chapter 4: Fair Conditioning in the final game.
Also Appears On:
Bubsy
(Collection)
The password for Level 4: Fair Conditioning is "MKBRLN", short for Mike Berlyn, the creator of Bubsy.
Bubsy in: Claws Encounters of the Furred Kind
was censored during the process of obtaining a Nintendo Seal of Approval, with two known instances being the removal of a cartoonish beheading death animation, and a catnip hazard which resembled marijuana and was replaced with banana peels.