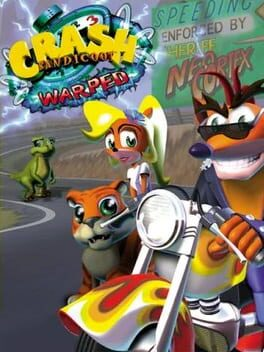 Add Trivia
Sorting options
---
This trivia has been marked as "Not Safe for Work".
It may not be appropriate for all visitors and
definitely isn't appropriate for work or school environments
.
Click here to unhide it.
In numerous official video game demo compilation discs (such as the fondly regarded Pizza Hut demo disk that came about as a promotional stunt co-jointed by Sony Computer Entertainment America and Pizza Hut), there was a "late demo" of Crash Bandicoot 3: Warped included, featuring a playable beta version of the level "Under Pressure".

As this version of the stage came from an earlier build of the game, there are distinguished differences between this version and the final version. Two differences that stand out between versions is that the signature pufferfish is purple instead of its usual orange, and that the Time Trial record times differ in such a manner that the demo version appeared to be deemed too difficult shortly before the final build's completion and retail release.

In the demo:
•Sapphire Relic Time: 1:28:33
•Gold Relic Time: 1:04:93
•Platinum Relic Time: 0:58:73

In the final release version:
•Sapphire Relic Time: 1:46:00
•Gold Relic Time: 1:17:90
•Platinum Relic Time: 1:10:50
Remaining idlr on the game's title screen will cause a Demonstration Mode to play. When the third Demo plays, if the player holds down triangle as the screen fades to black, they can then control Coco during her flying stage. Should the player then pause and select the Warp Room option as if to exit a level early, they will skip the introduction cutscene and immediately begin a new game with all five power ups unlocked from the start.

It is unknown if this is an elaborate hidden cheat, a potential debug function Naughty Dog utilized during development, or just simply an mistake within the game's code.

Alternatively, completing the "level" as normal will spit Crash back out into Warp Room 4. Due to the gate being locked without standard progression the player is now stuck, only able to access those five respective levels.

In the PAL version, this same feature is performed with Start instead of Triangle.

In the Egyptian-themed levels, there are hieroglyphs of black dogs on the wall that are speculated to represent Morgan T. Dog (now deceased), a pet mascot of
Naughty Dog
.
N. Sane Trilogy
kept this reference intact.

Early designs show that Dr. N. Tropy's personal time machine was originally designed to look like a giant digital watch around his waist. Further designs changed the shape and added more gears, chronometers, pistons and exhausts. The digital clock face was eventually replaced with a traditional analogue face.
Doctor Nefarious Tropy was added to the game as the developers felt a time travelling boss was needed, as the game focused on time travel. His shortened name, N. Tropy, is a pun on entropy, a term used to measure randomness and disorder over time.

The twentieth level's name, "Tomb Wader", is play on the name of the
Tomb Raider
series.
At the title screen, if you press Up, Up, Down, Down, Left, Right, Left, Right and Square, a Spyro the Dragon Demo will be available to play.
The Japanese version of Crash Bandicoot 3 has five short Full Motion Video's within the game.
Once you beat the game 100%, you can find Fake Crash dancing in the levels Toad Village, Makin' Waves and Hog Ride.