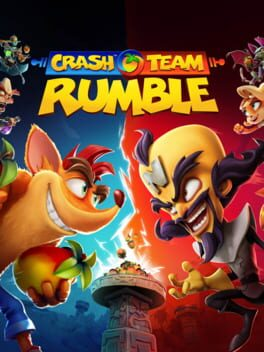 Add Trivia
Sorting options
---
Catbat is the first Crash Bandicoot character confirmed to be non-binary, and was inspired by musician David Bowie's "rock star androgynous look".

According to the Willy the Wombat production bible, Dr. Neo Cortex was born in the circus and physically abused by clowns. Since then, anything that involves clowns makes Cortex enraged.
In games like Crash Team Racing Nitro-Fueled and Crash Team Rumble, Cortex has an unlockable skin in which he is dressed up like a clown. Humorously in Nitro-Fueled, Cortex's victory animation features him with a dismal glare.

Crash Team Rumble
had been teased officially as far back as
Crash Bandicoot 4: It's About Time
's release date in 2020 - first in
It's About Time!
where, after 106% completing the game, the player could return to the start of the game and spin Crash's TV multiple times to show a mysterious Wumpa Fruit symbol. This would shortly be followed by a cross promotional video for
Uncharted
, where the symbol could be seen again on a banner with the words "Wumpa League".
Later in 2021, a Game Designers Conference talk with Toys for Bob studio head Paul Yan would show two hints towards the game's existence: one on a graphic made to show the game's goals with a set of green "this game is..." post-it notes (such as "new vehicles" or "cartoony animation" and red "this game isn't..." post-it notes (such as "beat 'em up" and "open world") with
Wumpa League
put in the middle as a yellow "might be", obscured by another note; and a second where the screen very briefly flashes to concept art of "
Wumpa League
".
Crash
content creators and game journalists would soon receive Wumpa Fruit-shaped pinatas with the
Wumpa League
branding and colors, which was then followed by a set of meme tweets on the
Crash
Twitter account relating to Wumpa Fruit, one of which being a play on the
It's Always Sunny in Philadelphia
Pepe Silvia conspiracy board meme. Toys for Bob would later release a
Crash
anniversary celebration video showing the
Wumpa League
logo again along with a Gem variant. The
Wumpa League
logos would show once more in the background of a PlayStation crossover commercial. The final tease of 2021 would be in a Christmas package sent to the press which had the Gem sticker placed on the side of the box.
In 2022, the hints started rolling in again on St. Patrick's Day, when Toys for Bob posted a piece of concept art for
Crash 4
edited to have four-leaf clovers littered throughout, asking players to find the seasonal hidden objects. However, the
Wumpa League
symbol was hidden alongside the clovers. Later, the press and
Crash
fandom would recieve another package, this time an Aku-Aku-branded pizza box promoting
Crash 4
's release on Steam, with "HUNGRY FOR MORE? TRY OUR NEW WUMPA PIZZA FOR $12.08!" written on the side - the price translating into the date of August 12, which was the date of the Game Awards, which is ultimately where
Crash Team Rumble
would be revealed.