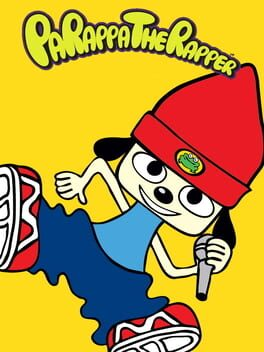 Add Trivia
Sorting options
---

In the "Funny Love" cutscene before the final level of
PaRappa the Rapper
, Club Fun is situated next to a radio repair shop that has official Sony certification, marking one of the rare instances where a non-entertainment branch of Sony has been referenced in a PlayStation title.
Chop Chop Master Onion voice actor Ryo Watabe was embarrassed about other rappers hearing the music he wrote for the game, despite them all being supportive and understanding the vision and limitations of writing rap music for a video game.
In an interview, Ryu Watabe stated that "I gotta believe" came from his old high school football team. The phrase was used as a motto the crowd would cheer when they were losing. He had previously intended to use the catchphrase as an album title.
PaRappa the Rapper
has a "repeat" button function where, for lines that comprise of one single button (such as those in Prince Fleaswallow's rap), you can press the left D-pad button to repeat the first syllable and the right button to repeat the last syllable.

There is an unused 7th stage in
PaRappa the Rapper
, which seems to be an encore of the final stage where audience members - including PaRappa's rival Joe Chin - come on stage and copy PaRappa's rhymes instead of the other way around. This concept would be used in
PaRappa the Rapper 2
as an encore following the final stage's Cool Mode.
One particularly infamous lyric in
PaRappa the Rapper
is in Prince Fleaswallow's rap, where he claims to have "been working here since [his] mama was a baby". While it is simply an exaggerated simile and not an actual piece of world lore, it has still been the source of mild chuckles from players for its unintentionally disturbing undertones if taken literally.
When music from
PaRappa the Rapper
was played by an orchestra at Sony's 23rd
Game Symphony Japan
concert in 2018, the lyric would be revised from "Since
my
mama was a baby" to "Since
your
mama was a baby", a more fitting lyric as PaRappa is supposed to be a young adult and Fleaswallow is presumably significantly older.

Across
PaRappa the Rapper
, you can you posters of a human pop star named "Pony Pony" - this character was originally supposed to be a member of PaRappa's friend group, but never properly appeared.
Sony Interactive Entertainment America's president, during the early lifespan of the PlayStation, was staunchly opposed to two-dimensional games.
PaRappa the Rapper
, known for its paper-puppet-styled characters, only managed to release abroad thanks to its success domestically. When it proved to be a worldwide success, SIEA eased up on 2D games.
Sunny Funny, Katy Kat, and PJ Berri already existed in Rodney Greenblat's art before
PaRappa the Rapper
entered development.

Before he was made a dog, earlier ideas for PaRappa the Rapper's species included a shrimp, clam, onion, reptilian kaiju, bee, and fox.
In the US PSP and PS4 versions of
PaRappa the Rapper
, PJ Berri and Katy Kat's Chunky Burger orders in the intro are censored - in the PS1 version they ask for a "giant vanilla frosty" and a "large chocolate frosty" respectively, but in the remastered version they instead ask for a "giant vanilla" and "large chocolate". The subtitles for PJ's order completely omit any drink from his order. This is due to "Frosty" (in the context of a drink) being trademarked by Wendy's. Despite this copyright issue, the claim from Katy Kat that Jet Baby could defeat Superman goes uncensored.
In the
Jet Baby
theme song, Jet Baby is referred to with female pronouns, but when PaRappa and his friends walk out of the cinema and discuss the movie, they refer to her with male pronouns.
PaRappa the Rapper
had a scrapped character named "Mr. Poo-Poo" - lyric writer Ryu Watabe was responsible for the character's removal, and would say to The New York Times:
"In Japan, that's very acceptable. But I said: 'Look, if it's domestic, fine. But if you're going to make this into an international thing, we're not going to use Mr. Poo-Poo.' I had to draw the line somewhere."
It is unknown if Mr. Poo-Poo was a teacher or member of PaRappa's friend group.
While Mr. Poo-Poo was scrapped, the game would still receive toilet humor in the form of the Full Tank rap.

The files for
PaRappa the Rapper
contain an empty "Stage 4" directory, meaning that the actual stage 4 is labeled stage 5 internally - concept art shows that General Potter, Sunny Funny's father who only appears briefly in the final game, was supposed to be the missing teacher. Rodney Greenblat does not remember what Potter's stage would've entailed, though Potter would be a prominent character in
PaRappa the Rapper 2
, albeit still not having his own rap.

In 2022, Rodney Greenblat uploaded a VHS rip to YouTube of the very first animation test of the game's opening cutscene, recorded directly from a Macintosh video output in 1995. The VHS, apparently a Christmas gift, is bookended by messages to Greenblat from the game's producer and co-composer Matsaya Matsuura, has no music, and features placeholder voice acting by Ryu Watabe. The cutscene features an early design for Katy, sporting a grass skirt, a yellow bra and dark blue and white fur, as well as a temporary stand-in design for PaRappa as his main design had not yet been finalized. This placeholder depicts him as a blue man sporting a red jacket and dark green shorts. Unusually, the characters refer to the movie they just saw as "
John Wayne
" (the name of a famous Golden Age American actor) and not
Jet Baby
.