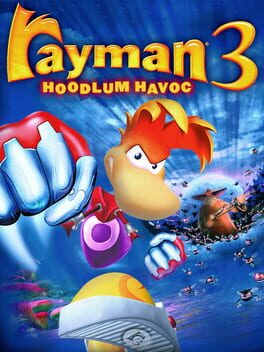 Add Trivia
Sorting options
---

In 2021, a secret display mode for the PlayStation 2 version of the game was discovered that involves first setting the standard video output to 480p (through the "Progressive Scan Mode" option), and then starting a new game with the profile name "PSONE". Doing this will cause the game to lower the standard output from 480p to 240p and disable texture filtering, making it more closely resemble a
PlayStation
game. For unknown reasons, this mode is referred to as "Christian Slater mode" in the source code.
Some levels from the Game Boy Advance version were replaced with exclusive levels that feature vertical exploration in the N-GAGE version. There were also changes in the sound effects as well as the music in the N-GAGE version.
Various characters from
Rayman 2: The Great Escape
make a Hidden Appearance:
• Hidden in an alcove in The Hoodlums Headquarters, Razorbeard and his Pirates can be seen in a pose reminiscent of The Last Supper by Leonardo da Vinci.
• A statue of Ly the Fairy appears in a Secret Room found in The Longest Shortcut.
• Sssssam the Snake makes a cameo as a statue in Razolf's Castle in The Bog of Murk.

During the first level of the game, while in the Fairy Counsel, there is a reference to
The Legend of Zelda
when Andrea encounters a fairy.
Billy West, voice actor for Murfy, previously voiced Rayman in the animated Rayman series.
Within the game's data is an unused music track called "Ice Dance". This is from the film
Edward Scissorhands
.
Before the final boss fight, the player can find a secret room containing four green jewels and three animals in cages: the Xowar, a blue Mawpaw and a Glute. In order to get to the room, the player must have accumulated a total score of 43,001 throughout the level.
In the PlayStation 2 release, the music for the Bog of Murk sounds different from all other releases.
Murfy's last quote in Rayman 3: Hoodlum Havoc is "See you in Rayman 4", so it is probable that he was to appear in the cancelled Rayman 4. Or he may have been referring to Rayman 3's sequel, Hoodlum's Revenge, where he appeared.