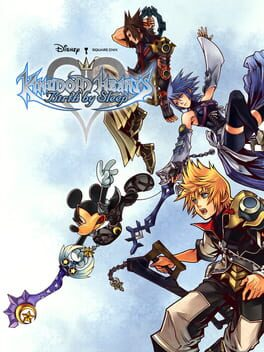 Kingdom Hearts Birth by Sleep
January 9, 2010
Add Trivia
Sorting options
---
In Neverland, there's an unused room that only has a skybox of the night sky.
The game has an updated version of the song "Dive Into the Heart" from the first
Kingdom Hearts
game using the Birth by Sleep instrument set, which goes unused.

In the cutscene where Aqua meets Kairi and King Mickey for the first time. If one pauses it at the right moment and looks closely they can see 2 Kairis. This mistake was fixed in
Kingdom Hearts HD 2.5 Remix
The director of
Birth by Sleep
, Tetsuya Nomura, specifically requested that Master Eraqus would be voiced by Mark Hamill, known for his role as Luke Skywalker in Star Wars. He also requested that Master Xehanort be voiced by Leonard Nimoy, known for his role as Mr. Spock in Star Trek.
Zack is the only Final Fantasy character to appear in the game. Other Final Fantasy characters were originally planned to appear but Tetsuya Nomura thought that they would have made the story go too far off track.

Zack was chosen to be the only Final Fantasy character due to the fact the development team wanted a character that was from the past to fit with the prequel story.
Vanitas' name is derived from the Latin word for "Vanity" or "Emptiness". The name was chosen for its meaning, the similarity to the name "Ventus", and as it's a written pun on "Sora" in Japanese.
Tetsuya Nomura: I wanted to give him a name that meant "empty", and so I looked for something that would be appropriate. When I was searching I found a word that meant "emptiness" in Latin, "Vanitas". It looked a lot like Ventus's name, and in Japanese it has the kanji for "sora" in it, so I thought it was perfect. Of course in Vanitas's case it doesn't mean "sora [sky]" but "kara [empty]" [These two words are written with the same kanji, but are said differently and have different meanings.]
Some unused 3D models and an image of the demo of Kingdom Hearts 3DS: Dream Drop Distance's logo can be found in the Japan-only Final Mix re-release, hinting that KH 3DS: DDD uses a modified Birth By Sleep graphical engine.
In the secret ending of Kingdom Hearts 2, Ventus, Terra and Aqua had capes on their armors. However, this was removed in Birth By Sleep due to frame rate issues.
There was a world based on the Jungle Book made for the game, but was removed for unknown reasons. The world can still be found in the code and can be accessed using a cheat device, though it's unfinished.
Laguna, from Final Fantasy VIII, was planned to be included in the game as head of the Mirage Arena but Square Enix was also planning for him to be in Dissida 012 Final Fantasy which was being developed around the same time. Developer Nomura Takahashi decided that they wanted Laguna to be in Dissidia more and made the decision to leave him out of Birth by Sleep.