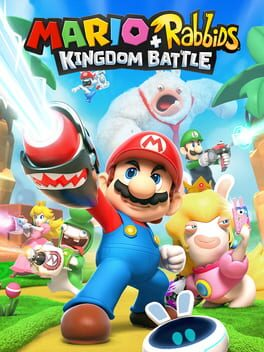 Mario + Rabbids Kingdom Battle
August 29, 2017
Add Trivia
Sorting options
---
According to Grant Kirkhope. The Phantom Rabbid's song was originally conceived to have rap and heavy metal variations. It was later changed to only focus on opera because the team wasn't satisfied with how the other genre variations turned out.
Davide Soliani has stated that, when developing the game, one of the major influences for Mario + Rabbids Kingdom Battle was the Mario Kart series.
"So, we started with the intention of saying we should renew the genre a little bit. We thought that tactical games are known to be slow paced and they tend to be a little niche, so why not try to have something very dynamic and colorful and fast paced. That's why our first reference was Mario Kart. How cool would it be to try to translate that kind of action into the combat of our game?"
Soliani also explained that the team talked about adding
Rayman
to the game. It was decided best to leave him out of the game since The Rabbids and Rayman were now separate series.
"We discussed it, but honestly, we thought that the strength of the Rabbids is that they are a white canvas, so you can do pretty much whatever you want. You can come up with crazy ideas and they work. We tried to bring the same spirit into this game. Mr. Miyamoto kept saying, 'Show me your colors. Show me your Rabbid's humor even more. Show me how crazy you can be.' Of course, Rayman was part of the Rabbids games in the past, but now those are two separate universes."
According to Davide Soliani, the idea of a Mario and a Raving Rabbids crossover game went through over 13 ideas(two of them being a musical themed game and a FPS game) before the team decided to settle with the turn based tactical RPG game.

"We knew we needed to come up with a new idea, or a new visual or new mechanics. We started to scratch them out, one after the other. We went through a musical game, a first-person shooter game; but really the team is composed of mainly tactical fans''

Rabbid Princess Peach originally had a transformation sequence inspired by Sailor Moon. While the sequence was cut from the game, Davide Soliani stated that the test sequence was made by animators who were desperate to hit the 1000 character animation requirement for character combat.
"When you have to create 1000 animations per character just for the Combat Phase, animators started to go crazy. This was 2 years ago.."

During the intro, the Time Washing Machine that the Rabbids use lists key dates of
Nintendo
and Ubisoft history:
*September 23rd 1889: The date that Nintendo was founded.
*March 12th 1986: The date that Ubisoft was founded.
*September 24th 1988: The date that Ubisoft, Milan was founded.