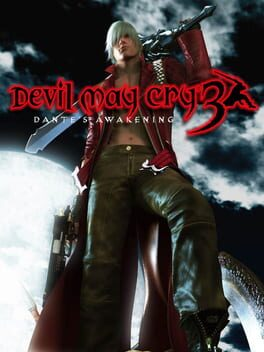 Devil May Cry 3: Dante's Awakening
February 17, 2005
Add Trivia
Sorting options
---
According to the game's writer, Bingo Morihashi, Lady was originally envisioned as an older seasoned demon hunter. However, Hideaki Itsuno rejected the idea in favor of an idea that would resonate with Japanese audiences.
"We originally planned to have her be older than Dante; that's how I would have liked it. (laughs) But Itsuno-san said, "No way." (laughs) He wanted a character that would go over well with the Japanese audience. My original proposal was a cigarette-smoking demon hunter who could act like a mentor to Dante, but Itsuno-san's response was, "No way. The only way she'll be popular with the Japanese audience is if she looks like a high-schooler." I had no choice, so I agreed to make the change. Trish already felt older than Dante, and the Dante in "DMC 3" is much younger, so it was decided that Lady should be slightly younger than Dante. Her appearance was up in the air for much of development, so I ended up writing her without a clear visual in mind. All we knew from the start was that she'd have black hair. Trish was blonde and Lucia was a redhead, so this almost Scandinavian-looking European should definitely have black hair; that's what the team decided on. Because what the Japanese audience definitely didn't want was more blondes or swarthy girls. The whole team agreed that "DMC 3" was a game made for the Japanese. We were happy to worry about the rest of the world later, because first and foremost, we - the creators - would have been in a bad place if the game wasn't a hit in Japan. Sure, we could have moved millions of units overseas and only tens of thousands in Japan, but focusing on the numbers like that and aiming for foreign sales would have been abandoning the Japanese fans who had supported us this whole time. That was the thought process, so we buckled down and concentrated on making a game that would do well in Japan. Vergil's katana and sword-draw techniques were also nods to the Japanese fans; we figured that most foreigners probably wouldn't understand that sleek, simple aesthetic. Lady's black hair, too. It wasn't easy. but we appealed to the audience we were aiming for."
According to the game's character designer, Hiroyuki Nara, the model for Dante was repurposed data for Trish from
Devil May Cry 2
.
"The characters' speed in the backup data was completely different from how it was in the retail release. The final motions had also been programmed in separately by the software guys, so in order to replicate them, I had to place a television running the original game next to my work monitor and eyeball it. (laughs) So the Dante in "DMC 3" was actually made using Trish's data from "DMC 2". (laughs) We had all sorts of problems with that damn backup data from "DMC 1"... "
There were originally going to be 100 Legion demons that fought during the Arkham boss fight, but due to hardware limitations, the modelers could only make about 20.
According to character designer, Daigo Ikeno, Lady's school girl outfit was inspired by 'the black-haired Julia Volkova' of the duo t.A.T.u.
"The inspiration for Lady's image is the black-haired Julia Volkova of the Russian girl group t.A.T.u. (laughs) This is a woman who sets off to kill demons all by herself, so we equipped her with weaponry that can get the job done. She had to look like a capable fighter, but... Japanese players just love school uniforms. (laughs) All the time, the members of t.A.T.u were known for their uniform-style fashion, so we designed Lady's outfit to look like a uniform too. The thing around her waist looks like a skirt at first glance, but it's actually made up of customized weaponry pouches. The hard pouches are wrapped around her waist and filled with gun magazines, but then they're decorated with a plaid pattern reminiscent of school uniforms. It's hard to say whether she custom-ordered them or made them herself. (laughs) Then there's her white button-up shirt, which feels very fresh and clean. I came up with a number of other battle-oriented designs, but in the end, the uniform look was very important. Itsuno had a big say in it, too. I may have chosen a look more suitable to fighting if it had been up to me. (laughs)"
According to the weapons modeler, Jun Ikawa, while working on the Cerberus weapon, the team filed a patent for the concept of a three-handled nunchaku called a "Sanchaku".
Having Dante expose more skin was partly inspired by the fashion style and live performances of Johnnys, originally the name of a Japanese boy band that was active in the 1960s, now an umbrella term for Japanese boy bands that specialize in exuberant stage performances.
"The "nothing but a jacket" look is perfect for young, cool stage performers, no? So we were always going to have him "naked" under the jacket. We never wavered on that design element. For a while there was also a design that had the jacket closed in front, but we realized that would be a waste of Dante's incredible, chiseled abs. The red coat contrasts nicely with his sharp, lively body."
The Special Edition of Devil May Cry 3 is the only game in the series that has "multiplayer" mode. To do this, the second player must get a second controller and press start while the first player uses the Doppelganger Style's "After-image", or when Vergil joins the fight with Arkham. The second player will control a downgraded Vergil with lesser combos than normal, but with infinite health.
Devil May Cry 3's Special Edition had extra content and its game modes were shifted down so that the Special Edition's Normal mode is equivalent to the original's Easy mode, and a new Very Hard mode was added to replace the original Hard mode.
Kazuma Kaneko, known for the Shin
Megami Tensei
series, was given the right to design the Devil Trigger forms for both Dante and Vergil.