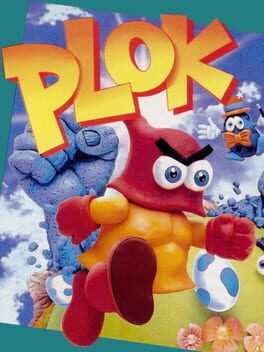 Add Trivia
Sorting options
---

Plok!
was originally envisioned as a coin-operated arcade game titled
Fleapit
, running off of Rare Ltd's Razz board, which was never used in a released game.
Chris Sievey, the actor behind the popular 80s UK comedy character Frank Sidebottom, had agreed to voice Plok in the game before its cancellation. The SNES game would not have any voice acting whatsoever outside of digitally-made grunts and laughter.

Plok!
was at one point going to feature an items shop, which would've been run by an anime-styled character named Suki. While the character wasn't used,
Plok
creators John and Ste Pickford kept her in mind for future installments that never came to be, but Ste was ultimately happy Suki never appeared in a
Plok
game as he felt that Western attempts to replicate the stylings of anime rarely turned out well.
There are four unused cheat codes in
Plok!
that were disabled, each of which spells a word with the inputs of the SNES controller, and displays a message on screen. These were disabled, and therefore cannot be used under normal means:
• Right - Up - B - B - A - Down - Up - X (Rubber Ducks) - Displays "NINTENDO POWER" and warps the player to the Test Level
• Y - A - B - A - Down - A - B - A (Yaba Daba) - Displays "JOHN'S CHEAT" and gives the player 16 Buddy Hornets
• B - Right - Up - X - Y - A - Left - Left (Brux Y'all) - Displays "LYNDON'S CHEAT" and gives the player 160 shells
• Up - Right - B - A - Down - Left - A - Down (You're Bad, Lad) - Displays "BAD INFLUENCE!" and makes the player invincible for 13 seconds
Nintendo Power
and
Bad Influence
are both the names of 90s-era gaming publications, meaning that there may have been an intent to share the codes through those platforms.
"John" is likely referring to
Plok!
co-creator John Pickford, while "Lyndon" and his code "Brux Y'all" refers to game designer and sprite artist Lyndon Brooke.
Plok!
did not feature any rubber ducks, however, a later Pickford Bros. game,
Wetrix
, would, and the eventual
Plok! the Exploding Man
comic would feature the rubber duck from
Wetrix
as a main protagonist.
According to
Plok
co-creator Ste Pickford,
Mario
creator Shigeru Miyamoto considered an early build of
Plok
to be the third best platforming game behind his own
Mario
in first, and the rivaling
Sonic
in second, and was interesting in helping Software Creations make Plok of a higher quality than
Sonic
, even if not
Mario
. Ultimately, he passed up the opportunity, with Pickford believing it was due to similarities with the then-unannounced
Super Mario World 2: Yoshi's Island
.

There are three cut levels still leftover in the game's code. These cut levels have map locations programmed in, though none of the levels have any layout data, instead appearing as a mess of random tiles. They all play track 0, the track used for Plok's House and Venge Thicket. They are all accessible use PAR codes:
• Brendammi Bog - PAR code: 7E08481D
• Badream Fens - PAR code: 7E08481E
• Breezy Beach - PAR code: 7E08481F