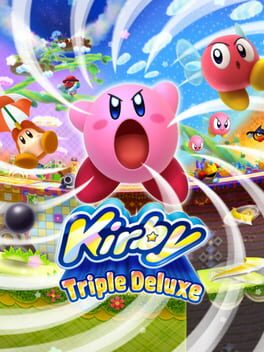 Add Trivia
Sorting options
---

In the Japanese version, after all the credits are done, two words will pop up that say "and more". This is possibly a reference to the Japanese version of Kirby Super Star and all versions of Kirby Super Star Ultra where at the very end of the credits, it also says "and more". However, when Kirby Triple Deluxe was localized in North America, the words were changed to "the end". This change is also present in
Kirby's Return to Dream Land
.
The voice of King Dedede was provided by the director the game, Shinya Kumazaki. This marks the only Kirby game where King Dedede's voice was not provided by his creator, Masahiro Sakurai.

In a Miiverse post, the director of Kirby: Triple Deluxe, Shinya Kumazaki, stated that there are two different colored musical notes, red ones, and blue ones in the Jukebox mode. The songs with the red musical notes were created by Jun Ishikawa, a composer who's been working on the
Kirby
series since the original
Kirby's Dream Land
. The music with blue musical notes was created by a second composer, Hirokazu Ando, who has been composing for
Kirby
since the second game,
Kirby's Adventure
.

In the Japanese version, during the tutorial, a red circle will appear whenever an action is properly done. However in the international version, the red circle was replaced with a green check mark, possibly to not confuse the player whenever they performed a correct action. In Japan, a circle is used in the same manner as a tick is in the west. This change is also present in
Kirby's Return to Dream Land
.

If Kirby uses the Stone ability, he has a rare chance to transform into a brick block from the Super
Mario
series and the HAL Labratories logo.
Queen Sectonia is voiced by Makiko Ohmoto, the same voice actor as Kirby.

At the last area on World 3-5 Old Odyssey, there is a strong reference to the classic story "the Three Little Pigs". Instead of three pigs, there are three Waddle Dee's hiding in three houses made of hay, wood and bricks (or in this case a giant destructible cannon). Instead of the wolf that blows everything away, Kirby sucks it all up with his Hypernova Ability.
As Sniper Kirby, pressing down makes Kirby camouflage in generic cutouts. However, there is a slight chance you'll spot four rare cutouts. These include
•Stone rock (Kirby's stone ability)
•Star block
•King Dedede
•HAL logo
The game's title references the 3D focus of the game; 'Triple' is derived from the number 3, and the 'Deluxe' can be shortened to its first letter, D. When put together, the title literally becomes "Kirby 3D".

Subtle changes were made between the Japanese and North American box arts. The most notable of these changes (besides the title and ESRB ratings) was the removal of Shotzo from the cover. This may have been done for censorship reasons, as the Shotzo on the Japanese cover is depicted shooting at the viewer. The European box art is left unchanged, however.
The first letter of the names of each of the 6 main worlds spell out "flower":
• Fine Field
• Lollipop Land
• Old Odyssey
• Wild World
• Ever Explosion
• Royal Road
The final boss,
Spoiler:
Sectonia, takes the form of a flower, and the song played during that phase of the battle is titled "FLOWERED".