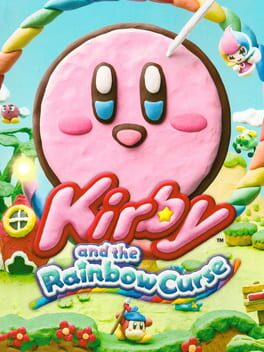 Kirby and the Rainbow Curse
January 22, 2015
Add Trivia
Sorting options
---
When Kirby is transformed into a tank for the first time, he can briefly be seen with the Rick the Hamster's color scheme.
In the E3 2014 trailer for Kirby and the Rainbow Curse, it was shown that Kirby is able to damage Whispy Woods by firing himself out of a cannon and hitting the tree's face. The cannon isn't present in the final game.
One music track exclusive to the stage Woodland Battle is titled Beware the Forest Fungus. This name may be a reference to the music track from Super Mario RPG: Legend of the Seven Stars, Beware the Forest's Mushrooms, but this may be a coincidence.
Near the end of the game
Spoiler:
where The Dark Crafter flees towards outer space, Elline and Claycia work together to turn Kirby into a rocket and chase after it. After Elline swipes Kirby once with the rocket picture she painted, Kirby will look almost exactly like Coo from Kirby's Dream Land 2 before Kirby is swiped again, turning him into a rocket.
The game's frame-rate was purposely dropped by the developers to make the game have a more stop-motion feel.