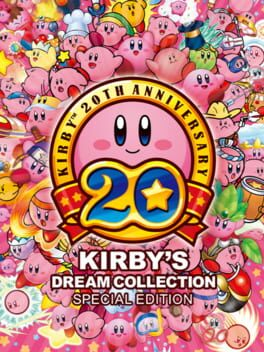 Kirby's Dream Collection Special Edition
July 19, 2012
Add Trivia
Sorting options
---
The answer concerning Cupid Kirby on page 28 for the Cavalcade of Kirby's quiz is incorrect; Cupid is from Kirby & The Amazing Mirror, not
Kirby's Return to Dream Land
.
In the Japanese version of Kirby's History, every year is filled with something except 1991 where there is an 8-bit statue of Kirby. Since some Kirby media wasn't released in North America, all of the empty years were replaced with 8-bit statues of Kirby, Lololo and Lalala, Waddle Dee, King Dedede, Meta Knight, and Magolor.
If the player waits long enough without observing any games, the music will shift from the Castle Lololo theme from Kirby's Dream Land to Cloudy Park theme from Kirby's Dream Land 2. Kirby will also get tired and fall asleep in place, much like he does when remaining idle in other Kirby games.
The first Letter of each level in Challenge Mode spells HAL, a self referential nod to HAL Laboratory.
•
H
appiness Hall
•
A
pricot Atrium
•
L
ast Land