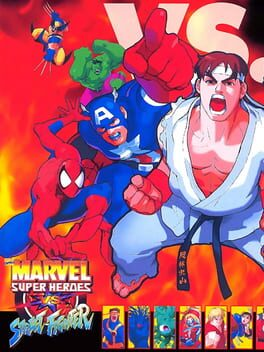 Marvel Super Heroes vs. Street Fighter
June 25, 1997
Add Trivia
Sorting options
---
In the international version of the game, beating the game with the secret Capcom characters shows a generic congratulations screen, just like with the secret Marvel characters. In the original Japanese release, however, the secret Capcom characters have proper endings.
Armored Spider-Man (a grey recolor of Spider-Man) was supposed to be the Symbiote Spider-Man from the Secret Wars storyline, but was cut as it was too difficult to redraw the pixels required to make the character different from the normal Spider-Man sprite.
The character of Norimaro, based on Japanese comedian Noritake 'Noritaro' Kinashi, was cut from the international releases of the game due to Marvel's objections over the character, as they didn't want some random underpowered gag character going against their heroes. Capcom managed to convince Marvel to keep him on the condition he only appears within the Japanese release of the game.
Dan's ending shows his sister Yuriko preventing Dan from finishing off Cyber-Akuma saying "Don't you know who he is? He's our...".
This is a parody of Ryo's ending in the original
Art of Fighting
game, where Ryo was about to kill Mr. Karate before being told he is their father by Yuri (who Yuriko was named and designed after).
Omega Red's ending shows him having killed Ryu, where a deeply distressed Ken asks him "How many lives have you ended?". Omega Red merely responds "Do you count the number of breaths you've taken?". 
This is a reference to a similar scene in the manga series
JoJo's Bizarre Adventure
, when Willian Anthonio Zeppeli asks a similar question towards the vampire Dio Brando. William asks Dio Brando "How many lives have you sucken away to heal those wounds?", only to be answered cynically with "How many breads have you eaten in your life?".
During development Norimaro had a throw that was removed from the final version, where he shoves his fingers up the opponent's rear, a Japanese prank called kancho. This move was supposedly removed at Marvel's request.

The sprites for Norimaro's kancho throw are not present in the final game.

Norimaro has an unused hyper combo that can be found in the game files. It appears to be an anti-air attack in which a thought bubble appears above Norimaro's head, displaying various Capcom women in seductive poses. He smiles at the thought, but then suddenly suffers a massive nosebleed that sprays violently in the air in front of him. The characters that may appear in his thoughts include Chun-Li, Sakura, Cammy, Morrigan, Felicia, Anita, and Zangief.

Due to cultural differences, Norimaro, a character based on Japanese comedian Noritaro Kinashi, was not supposed to be available in the international version of the game. The code that allowed him to be a playable character was actually locked out in the programming if the game was not set to the Japanese region. However, ROM files of the game later proved that Norimaro was, in fact, originally planned to be available since all of his dialogue was translated to English. Although he is not playable in the international version without memory editing, he can still be seen in the first gallery picture in the game.

Karin, a character that wouldn't debut until
Street Fighter Alpha 3
a year after the release of this title, has some prototype sprites left in the game's data. Her appearance differs greatly from her final design, being little more than a spriteswap of Sakura with combat boots and a different head.

Sprites of Dhalsim's wife Sari from
Street Fighter Alpha 2
&
3
can be found within the game's data. She was going to be seen in the background whenever Dhalsim was in battle but was removed before the game was released.