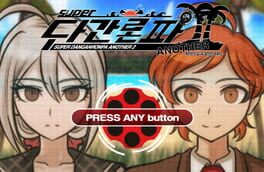 Super Danganronpa Another 2 ~The Moon of Hope and Sun of Despair~
January 10, 2020
Add Trivia
Sorting options
---

Iroha Nijiue's design was heavily inspired by Kise Yayoi from the anime series "Smile PreCure!", as LINUJ had been inspired to create original characters similar to his favorite characters in other media. When the game first began, LINUJ thought this was easy to notice due to lack of development. Iroha's crybaby personality was one of the aforementioned similarities to Kise. Her first design was directly based on Kise, but with certain changes to make her design her own. LINUJ later redesigned Iroha when coming up with ideas for the story, before Void was officially created. At the time, Iroha wore a pair of boots instead of shoes, and her skirt had a different pattern that was removed later on. When more of the story was created, LINUJ began to start the process of redesigning Iroha, as well as many other characters, coming up with a design that was closer to what her finalized design was: the only difference before she received her final design was the pattern on her socks.
LINUJ has stated that Iroha is his favorite character from the series, but had attempted to be as unbiased as possible with her involvement and fate. During Chapters 3 and 4 specifically, LINUJ began to have more fun when writing the dialogue for her during the later part of the series and eventually reached a point where he didn't think much about what she was saying, as Iroha "doesn't think about what she's saying" from his perspective. He also worried that many people wouldn't like her, but was surprised when she later began to gain popularity in the Korean and Western fandoms.

Hajime Makunouchi was once a scrapped design left in LINUJ's notebook prior to the time he discovered
Danganronpa
. His initial design has little resemblance to his final design: he wore a t-shirt with the word "Victory" on it, a tooth-like necklace, a pair of shorts, and a champions belt presumably meant to keep them up. He did, however, retain the same hairstyle and sunglasses within his final design. He was eventually redesigned as LINUJ began to consider the idea of making a sequel to Danganronpa Another: apart from the design of the champions belt and the removal of scars, nothing else was different between the prototype and final designs.
Additionally, while LINUJ regards Hajime's childhood as a common cliche, he also really liked his character and childhood. He also noted that while Hajime's sunglasses are meant for optical nerve damage, he also just liked to draw sunglasses, suggesting that they originally served no purpose in the initial design.
Due to his design having been finalized in the previous game, Yuki's design in Super Danganronpa Another 2 received minimal changes, with only two notable differences: his shirt being tucked out rather than tucked in, and the emblem on his blazer having a different design.
The game's developer LINUJ described Sora as an "ambiguous person to call the protagonist", considering Yuki Maeda to be the main character overall. Worrying that people hadn't grown attached to Sora by that point, he intended to change that with Chapter Four by having Sora be a part of the murder plan and causing a reaction in the group once this was revealed: LINUJ specifically described it as an "I believed in this person" type of scenario. The original version of Chapter Four would have had the possibility of Sora's character changing as well. When the chapter was changed during development, this change in character was no longer possible. It's left ambiguous what would have happened to her character had the original version of the chapter been used.