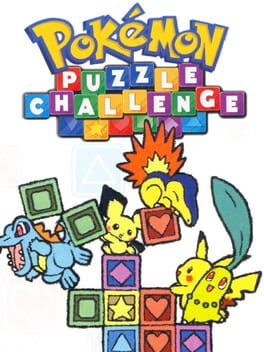 Add Trivia
Sorting options
---

Pokémon Puzzle Challenge
has an unused title screen reading
Pokémon Puzzle League
, implying that it once shared a name with its Nintendo 64 counterpart.

There are 2 hidden difficulty levels within the game. When at the difficultly screen in Challenge Mode, pressing select & A while hovering over Hard More will unlock Super Hard Mode. Doing this again while hovering over Super Hard Mode will unlock Intense Mode, the highest difficulty level available in the game.
There is a nearly finished game of Panel de Pon within the game's code. When loading Pokemon Puzzle Challenge onto a Game Boy or a Super Game Boy, at the Game Boy Color Only warning screen, pressing A 24 times, followed by B 24 times, the game will then start. It's possible to access the Game Boy Color warning screen on the Game Boy Color by pressing up twice, follow by right 4 times, down once, left 10 times, up 4 times, right once, down 6 times, and then pressing B at the game's title screen.

Jynx's losing animation features nothing but her detached hair holding a white flag of defeat, similar to what happens when you defeat her in
Pokemon Stadium
.