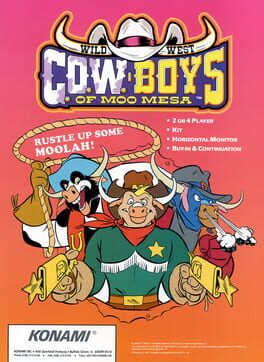 Wild West C.O.W.-Boys of Moo Mesa
December 19, 1992
Add Trivia
Sorting options
---
Several of Konami's arcade beat-em-ups had a recurring feature common among other arcade games where if you wait too long to proceed to the next screen, the game will punish you for idling. In most games, such as Teenage Mutant Ninja Turtles, Teenage Mutant Ninja Turtles: Turtles in Time, Sunset Riders, Wild West C.O.W.-Boys of Moo Mesa, and Mystic Warriors: Wrath of the Ninjas to name a few, the game will take away a life in one way or another for waiting too long. However, in some other games like The Simpsons Arcade Game and Asterix, the player will only take a select amount of damage for idling, and may not necessarily be enough to lose a life.
Buffalo Bull was only a minor character in the
Wild West C.O.W.-Boys of Moo Mesa
cartoon, serving as the village blacksmith, but was made into a playable character in the game to allow 4-player gameplay.