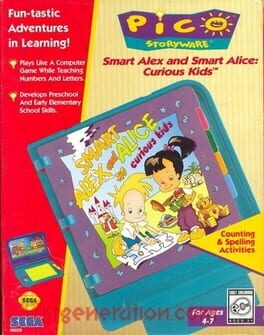 Smart Alex and Smart Alice: Curious Kids
December 31, 1996
Add Trivia
Sorting options
---

The Sega Pico has a variety of different mascots depending on territory:
• In Japan, the Sega Pico had a set of two mascots, who were originally hand-drawn, but changed to a CGI style upon the hardware's rebranding to the "Kids Communication Pico". These characters would appear in the opening titles for every Japanese Pico release and are not known to have appeared in any commercials.
• In Western territories, the Sega Pico used a mascot known as "Smart Alex", originating from the game
Smart Alex & Smart Alice: Curious Kids
. Box arts for Pico games in regions such as the UK and France would feature Smart Alex regardless of if he actually appeared in the game, he appeared in animated commercials for the hardware, and he had a mascot costume made for the 1995 Macy's Thanksgiving Day Parade. Smart Alex is the only Pico mascot to have appeared in his own game.
• In Korea, where the hardware was distributed by Samsung, it used a star-shaped animal character. The character would continue to be used for the Samsung Thinko, a Pico successor made without Sega's involvement, independent of its Japanese follow-up, the Advanced Pico Beena.