You know those Sandworm enemies from the Sonic Franchise that pop out of the sand?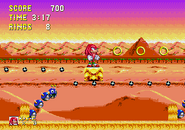 They seem pretty similar to creatures with the same name that we've seen in movies (though merely a coincidence, which we see a lot). Like say Dune and Star Wars Episode V: The Empire Strikes Back (Worms that attack out of the ground)?
Dune and Star Wars Episode V did arrive before the introduction of these Badniks. You never know how many movie monsters could be getting coincidental refences.