I believe the character PJ in F-Zero GX is a nod to the Crazy Taxi series, as both were developed by Sega. He is a taxi cab driver turned racer.
Here is his picture:
Here's the ship he drives...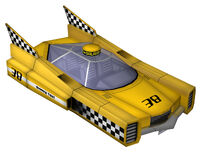 Yea, it's a space taxi re-worked into a race machine. There is no definite proof, but I doubt this is a coincidence. What do you guys think?